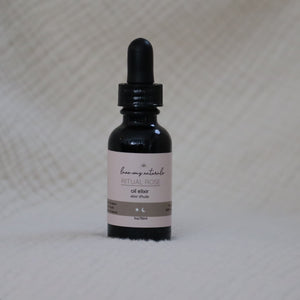 Lane Way Naturals - Ritual Rose - Oil Elixir
Create a ritual with our extra luxurious, light weight, all natural, multi purpose magic elixir oil serum. Made with a blend of a 100% pure and natural ingredients. For use on face, body + hair to achieve ultimate moisture, nourishment + glow.
Meant to be used both day and night for your face. When your skin needs extra TLC or when those dry hair ends need some extra love!
Key Ingredients:
SQUALANE: the closet ingredient to our skins own natural sebum! Our elixir contains a hefty dose. Squalane improves the skins ability to regenerate as it helps to nourish, hydrate, protect and oxygenate the skin. It is naturally anti-bacterial and is effective to treat dry, chapped skin, psoriasis, eczema and other minor skin conditions. It also helps soften the skin which in turn diminishes fine lines and wrinkles.
MOROCCAN ARGAN OIL: cold press and extracted from the kernals of the moroccan argan tree. Argan oil is rich in antioxidants and helps protect the skin from environmental damage. It is also extremely anti-inflammatory helping heal acne. Argan oil also provides healing and "sealing" our skins outer layer, which improves the apperance it also prevents further drying but putting a stop to transdermal water loss.
ROSEHIP OIL: rosehip oil has an incredible arrary of benefits for the skin. It is rich in vitamins, antioxidants and fatty acids that nourish and hyrdate. It contains vitamin A that encourages cell turn over which can reduce and reverse sun damage and acne scarring. It also can boost collagen formation by inhibiting the creation of MMP-1 which is an enzyme that breaks down collagen in our body and skin.
ROSE ABSOLUTE: moisturizes the skin, improves circulation and reduces inflammation. Rose absolute has astringent properties that can help tone and tighten skin. Rose absolute creates an aromatherapy ritual and can boost your mood and provide relief from anxiety and stress, a perfect way to start and end your day.
THE RITUAL: Use a few drops daily, nightly or as needed. Gently press or massage onto face + body after cleansing. Allow 1-3 minutes to absorb before applying makeup. For hair, drop a few drops onto palm of hand and evenly distribute through mid + ends of hair.
1oz/30ml
---
We Also Recommend