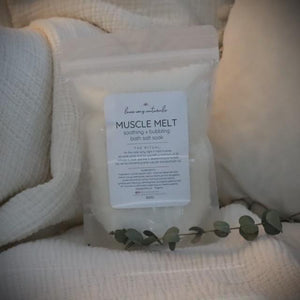 Lane Way Naturals - Muscle Melt - Soothing & Bubbling Bath Salt Soak
Get the relief you need with our Muscle Melt Soothing & Bubbling Salt Soak.
Mineral rich Deas Sea salt, epsom salt, pure essential oils of lemongrass, eucalyptus, rosemary and a hint of peppermint will have those achy, tired muscles feeling relaxed after a 20 minute soak in these magic salts! With added bubbles! We use the gentlest surfactant creating baby soft frothy bubbles!
The Dead Sea is the most saline body of water in the world with far greater concentrations of minerals than any ocean (a concentration of 32% minerals compared to other seas, holding approximately 3%). Bromides and Iodine are known to be present in Dead Sea Mineral Salt, along with other minerals in a dried form, such as Magnesium, Sodium, Calcium, and Potassium. All these minerals work together to assist in relaxing the body and soothe to provide a sense of well-being. We use only organic Lemongrass essential oil in our products. lemongrass is known to relax sore muscles and tendons that have tightened up! Lemongrass oil can assist in improving blood circulation and provide immediate pain relief by soothing muscle spasms. Eucalyptus and peppermint oil, creates a cooling effect when used topically. The feeling may reduce muscle soreness and related inflammation.
The ritual: Sprinkle 1/4 c. in bath and soak for a minimum 20 mins. Store in a cool dry place, out of direct sunlight
Ingredients: *magnesium sulfate (epsom salt), maris sal (dead sea salt), tapicoa powder, sodium cocoyl isethionate (dervided from coconut), essential oils of cymbopogon flexuosus* (lemongrass), eucalyptus globulus* (eucalyptus), rosmarinus officinalis* (rosemary), mentha piperita (peppermint) *ORGANIC
---
We Also Recommend