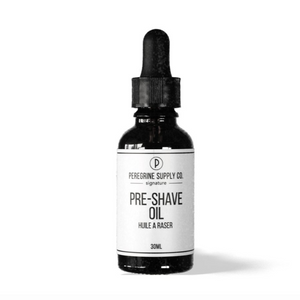 Peregrine Supply Co. - Pre-Shave Oil - Sandalwood
Our Preshave Oil is the best thing to ensure a close, comfortable shave - even before you touch your razor. Use with a hot towel or right after a hot shower for best results
WHAT'S AWESOME ABOUT IT?
- Carefully blended carrier oils keep your pores open while you shave to help keep them clean and prevent bumps ingrown hairs.
- Avocado Oil deeply moisturizes without greasiness to protect against dryness and itchy skin.
- Vitamin A and E increase cell regeneration to keep skin bright and young looking
- Castor Oil boosts circulation to speed healing without inflammation
- Adds additional layer of protection to lubricate and protect your skin from the razor.
---
We Also Recommend