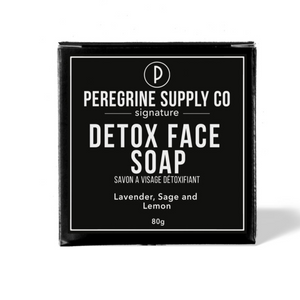 Peregrine Supply Co. - Detox Face Soap
Built around the power of activated charcoal, our Detox Face Soap is a great way to deeply cleanse and refresh your face, without stripping the natural oils that balance and nourish your skin.
What about it's Awesome?
- Activated Charcoal will deeply cleanse your pores and remove toxins that can cause blemishes and irritation, without stripping the natural oils from your skin. This makes it a great choice for all skin types
- Bentonite Clay is loaded with trace nutrients and works to control problem skin by unclogging pores and reducing their apparent size, controlling the over-production of sebum, and lightly exfoliating your skin while you wash.
- The soap base is mild, meaning that it can be used everyday without causing any tightness or sensitivity on your skin.
- Scented with essential oils only, our Detox Face Soap is a great choice for sensitive or problem skin
---
We Also Recommend