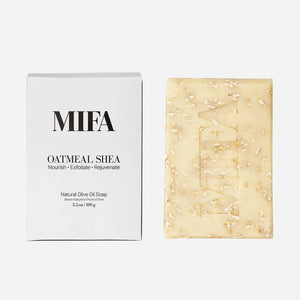 Mifa - Oatmeal Shea Soap Bar
OATMEAL SHEA
Nourish-Exfoliate-Rejuvenate
Available in 3.5 oz / 100 g (approx. wt.)

MIFA's 100% natural olive oil soap, OATMEAL SHEA, is made with luxurious 100% certified organic ingredients to nourish, exfoliate, and rejuvenate your skin.
We paired this soap with oatmeal, making this soap ideal for anyone wanting a light exfoliating bar. It helps remove dead skin cells, leaving your skin feeling soothed and moisturized. 
As an unscented bar rich in vitamin E - it doesn't contain any essential oils making it safe for anyone with sensitive skin. 
Shop our essential sets to save!
KEY INGREDIENTS
Organic Shea Butter - An emollient, rich in essential fatty acids. It is a humectant, helping the skin retain moisture and deeply hydrate to the skin.
Organic Oatmeal - Exfoliates and removes dead skin cells and it is one of the most common and most effective soothing powders used in the skincare products having various calming properties.
Organic Coconut - This fruit's beneficial oil provides moisture to hair and skin, safely, gently and effectively removes excess oil and dirt from skin and hair without depleting necessary nutrients and moisture.
Organic Olive Oil - Used for centuries in traditional soap making. It can deeply moisturize and help soften your skin. 
Full Ingredients List
Olea Europaea (Olive) Oil*, Cocos Nucifera (Coconut/Noix de Coco) Oil*, Butyrospermum Parkii (Shea Butter/Beurre de Karité) Fruit*, Theobroma Cacao (Cocoa/Cacao) Seed Butter*, Avena Sativa (Oat Kernel Grinds/Avoine)*, Ricinus Communis (Castor Seed/Grain de Ricin) Oil*
*CERTIFIED ORGANIC INGREDIENTS/ Ingrédients Certifiés Organiques

Recommended Use: 
Apply to moistened skin. Rinse thoroughly.
The bar buffer method, is where you rub the bar directly on your skin to create lather and wash. This is definitely the best way to use exfoliating soaps and will also help get 100% maximum moisturizing effects.
Note: As with any oatmeal soap, the oats will feel more gentle with every use as the flakes become moist and soft. 
Cruelty-Free, Toxin-Free, Sulfate-Free, Paraben-Free, Gluten-Free, Soy-Free, Phthalate-Free, Fragrance-Free, Palm Oil-Free, Vegan.
---
We Also Recommend