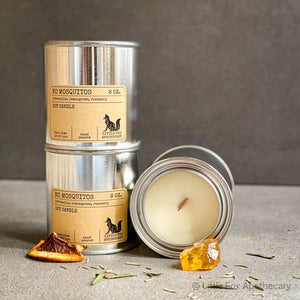 Little Fox Apothecary - No Mosquito - Outdoor Soy Candle
Helps with releasing negative energy, but also helps to repel mosquitoes! 
Burn time - 16 - 20 hrs. 
This candle is intended for outside use and is not recommended to be used indoors. 
Essential Oils - citronella, lemongrass, rosemary
Little Fox candles are individually hand poured. Using only essential oils for aroma. We do not use synthetic or 'natural' fragrances. Soy wax burns cleaner, has no toxins, carcinogens or pollutants, which means it is less likely to trigger allergies. Does not emit any petrol-carbon soot and burns 30-50% longer than a paraffin candle! Soy is a renewable resource and is biodegradable.