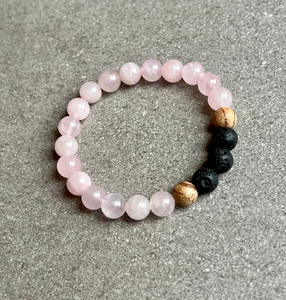 Little Fox Apothecary - Rose Quartz Diffuser Bracelet
ROSE QUARTZ: The fair and lovely Rose Quartz, with its gentle pink essence, is a stone of the heart, a Crystal of Unconditional Love. It carries a soft feminine energy of compassion and peace, tenderness and healing, nourishment and comfort. It speaks directly to the Heart Chakra, dissolving emotional wounds, fears and resentments, and circulates a Divine loving energy throughout the entire aura.
Rose Quartz is a calming and reassuring crystal, excellent for use in trauma or crisis, including the emotional upheaval of mid-life crisis. It strengthens empathy, sensitivity, and aids in the acceptance of necessary change. It is also an excellent stone for comforting grief. Chakras: Heart
LAVA ROCK: From the core of the Earth, formed from volcanic magma. A stone of strength and courage, it aids in stability throughout changes in life. As the stone was created from raw energy it is considered to be a stone of rebirth and shedding layers of emotional attachment. Fantastic for stabilizing and grounding the root chakra.