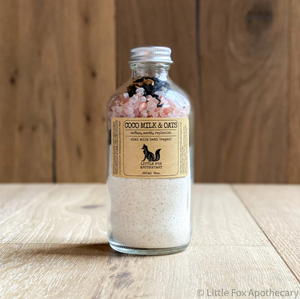 Little Fox Apothecary - Vegan Coco Milk & Oats - Goodnight
A luxurious, silky bath to help calm, soothe and hydrate your skin. Excellent for reducing skin irritation caused by excessive dryness, eczema or dermatitis. Made with Organic Coconut milk powder, Canadian colloidaloatmeal, dried lavender flower buds and Himalayan salt infused with LFA's Good Night blend of essential oils. 
This delightful milk bath will be your new favourite self-care ritual! 
*If you prefer not to have loose flower pieces in your tub, we will include a biodegradable tea bag which can be used to keep everything neat and tidy. 
Available in a 250ml clear glass bottle. Biodegradable tea bag included. Please recycle, re-purpose or re-use the bottle! 
---
We Also Recommend