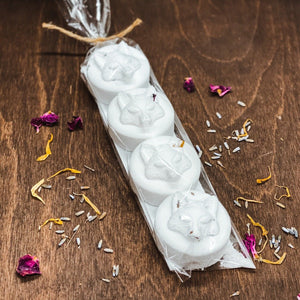 Little Fox Apothecary - Fox Face Shower Steamers
Little Fox shower steamers allow you to apply essential oils just prior to use in the shower. Just place 4-5 drops of pure essential oil on the fox's nose and position in the corner of the shower or on a shelf. It will slowly melt and release the aromas of the essential oils. 
Each pack contains four pucks with a variety of organic dried botanicals (lavender buds, rose petals or calendula) to add a little splash of beauty and colour to our lovingly hand made little fox steamers. Enjoy! 
for use in the shower only
do not place directly in water stream
add your own essential oils 
for external use only
do not rub on skin
---
We Also Recommend