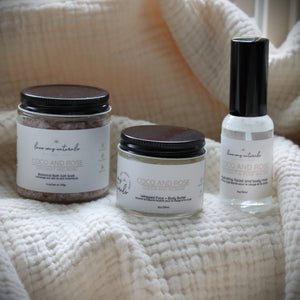 Lane Way Naturals - Coco & Rose - Trio Collection
The Coco and Rose mini trio set includes:
1OZ Coco & Rose Hydrating Face and Body mist

2OZ Coco & Rose Whipped Face and Body Butter

120G Coco & Rose Botanical Salt Soak
A perfect bundle all wrapped up in our olive green burlap bag. Perfect for gift giving or it's a great travel set.
Coco & Rose hydrating face and body mist will leave your skin feeling fresh and perfectly balanced. It is great for all skin types. Rose water, with its incredible scent and hydrating and anti- inflammatory properties, helps soothe skin irritation, and reduces redness. Our mist also contains witch hazel that is rich in tannins and is a natural plant compound that can help protect your skins barrier. It also acts as a natural and gentle astringent. With a touch of organic coconut oil for an added glow, moisture, hydration and skin protection. Geranium essential oil tops off this mist with an added intoxication scent and added skin benefits! Pro tip: This mist also makes a great makeup setting spray. Simple mist on top of your completed makeup look for a long lasting look.
The ritual: after cleansing mist onto face prior to skin care regime or on face and body anytime you need a pick me up! Can also be used on top of makeup to "set" Store out of direct sunlight. SHAKE WELL before use.
Ingredients: *rose damascena (rose) floral water, witch hazel, cocos nucifera (coconut) oil*, pelargonium graveolens (geranium) oil *ORGANIC
Coco & Rose Whipped Face and Body Butter - The Coco + Rose collection features luxurious, vitamin rich ingredients that will leave your skin feeling supple, soft and comfortable. Delicately scented with organic cocoa butter and paraben and phthalate free natural fragrance oil. Rosehip oil is one of the stars in our butter! It is known to: hydrates, moisturize, gently exfoliates and brightens the skin, boosts collagen formation, helps reduce inflammation and reduces hyperpigmentation.
The ritual: used best on damp skin. Scoop out a small amount (a little goes a long way) and smooth over face and/or body for ultimate hydration and nourishment to your skin. Store product in cool, dry place and out of direct sunlight.
Ingredients: mangifera indica (mango) seed butter, theobroma cacao (cocoa) seed butter*, cocos nucifera (coconut) oil*, rosa rubiginosa (rosehip) seed oil, maranta arudinacea (arrowroot) powder, stearic acid, natural fragrance oil (paraben and phthalate free) *ORGANIC
Coco & Rose Botanical Salt Soak - Relax and recharge in our triple mineral rich blend of salts. Magnesium rich epsom, pink himalayan and dead sea salt will have those muscles and tension melt right down your drain! Added organic coconut milk powder to nourish and promote healthy glowing skin. Our water soluble rosehip botanical extract tops off these salts! It is a high source of antioxidants including vitamin C aswell as many other skin loving and minerals. Traditionally rosehip extract helps relive joint pains. Our coco and rose salt soak is delicately scented with geranium essential oil and a blend of natural fragrance oil.
The ritual: sprinkle 1/4 c. in bath and soak for a minimum 20 mins. Store in a cool dry place, out of direct sunlight.
Ingredients: magnesium sulfate (epsom salt), pink halite (pink himalayan salt), maris sal (dead sea salt), cocos nucifera (coconut) extract*, Rosa canina (rosehip) extract, rosa centifolia (rose) petals, natural fragrance oil (paraben and phthalate free), pelargnium graveolens (geranium) essential oil *ORGANIC